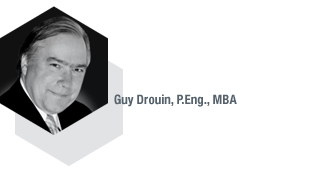 Guy Drouin, P.Eng., MBA
President and Chief Executive Officer (CEO)                                                          
Guy is the founder and owner of the Biothermica group since 1987. Over the past 30 years, he has participated in the design, development and commercialization of numerous technologies and projects in the fields of air pollution control, greenhouse gas (GHG) and methane mitigation and renewable energy.
Guy is the President of the Gazmont Limited Partnership, subsidiary of Biothermica, which owns and operates a 25 MW landfill gas power plant in Montreal since 1996. He also financed and managed the development and implementation of the first coal mine ventilation air methane (VAM) abatement plant at a Walter Energy (WLT:NYSE)  active underground coal mine in Alabama  and supervised the registration of the carbon credits under the Climate Action Reserve standard, based in California. 
Guy holds an engineering degree from the Polytechnic School of Montreal (1972) and a Master's degree in Business Administration from McGill University (1974).