Maximizing Ventilation Air Methane (VAM) abatement at minimum cost
Based on the experience gained from its first VAM project, Biothermica has developed a Second generation Vamox® Regenerative Thermal Oxidizer (RTO) system fully optimized by Biothermica's engineers to maximize carbon credits production in the most economical fashion.
For illustrative purposes, at 0,9%,v/v (the methane concentration typically observed on vent bleeder shafts in the U.S), this Vamox® system would generate about 750 tCO2e/24h (~260,000 tCO2e/year based on 95% uptime), with a total parasitic power consumption of only 700 hp (520 kW) approximately.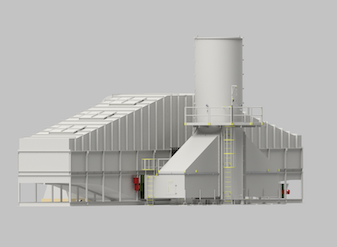 The VAMOX® technology provides many advantages and features, including:
Proven fail-safe design and safety features exceeding MSHA's requirements to ensure miners' safety.
Mechanical connection to the vent shaft designed to prevent any possible impact on the mine's ventilation capacity while also preventing VAM dilution.
RTO's design can be customized using a proven process simulator to optimize the system's performance over the specific range of VAM flow rate and methane concentration specified.
Proprietary control strategy, including the auto-adjustment of process parameters based on methane concentration, in order to maximize performance and allow processing VAM with highly variable methane concentration up to 1.2% without experiencing overheat issues.
Low parasitic power consumption and maintenance costs.
Designed for facilitated relocation. System built in modular sections that can be easily dismantled and moved within ~2 months to different shafts throughout their service life, as the progression of underground mining activities lead to the commissioning of new ventilation fans.
SPECIFICATIONS (can be customized):
Flow capacity → up to 140,000 acfm (~240 ,000 Nm3/h)
Footprint→ 4,700 ft2 (44'X106') / 416 m2 (13m X 32m)
%CH4 Range→ 0.3% - 1.2%
Methane destruction efficiency → up to 98%.